Centsational Girl
, when she made this drying rack.
I thought...that would be great to have.
Then I saw
Ballard Designs drying rack.
And I thought.... I. MUST. HAVE. ONE!
The price tag stopped me. Just like everything from Ballard's site.
So I showed a picture of these awesome drying racks to Mr. Genius, and he was all... I can make that.
I was like, ok lets do it.
And then 6 months later we started.
Isn't that just the way.
So here you go peeps. Our drying rack.
See the
butterfly frame
from last week.
Here's the deal.
I plan on making another drying rack...by myself. EEEEK!
Why would I do such a crazy thing?
Sawdust and Paperscraps is having a Buildhers party.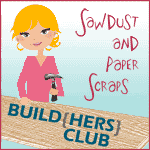 I thought I should use that party to put my big girl panties on and just build something.
Now wait...what does that have anything to do with the
butterfly picture frame
?
Well Ms. Picky pants, I plan on hanging it up between the two drying racks and would like to make sure it is centered. Plus knowing me when I hang the other drying rack up I may decide to put something else between them.
Now that's enough talking. Lets look at some more pictures of my new rack.
hehehe
Also, I got in the top 10 of the
DIY club
with my
stencil cabinet
!
The winner is chosen by the one with the most votes.
So....if you don't mind stopping over
there
and voting for the project that you like the best.
If it happens to be mine...well, I will give you a big smoochy kiss and if you don't vote for me... I will put
chicken broth in your cereal
.
Just kidding...Maybe.

This post was sponsored by: