Here is a quick fact for you.
In the movie 'Back to the Future', Doc sets the clock in the DeLorean to a day 25 years in the future...Today is that day.
How crazy is that?!
Now we don't have flying cars and clothes that instantly blow up and dry on their own, or hoover boards.
But we can surf the Internet and write a blog post while driving down the interstate!!!
Thank you Sprint MiFi card and thank you Mr. Genius' job for giving him one!
But I would really love to have a time machine right now.
You now what time I would go back to?
Well that would be Yesterday around noon.
I know that yesterday on the 4th of July at lunch time was not a significant time to where I can solve world peace, or find the perfect jeans that would make every woman look sexy.
Instead it would have been a time that me and my family could have had our perfect revenge.
Please understand one thing though. My family is not one to seek out revenge of any sort normally.
But apparently when you speak badly of our children... we will want to hunt you down.
So let me share the scenario with you and see if you wouldn't do the same thing.
Yesterday my mom, both brothers, their families and my little pose decided to eat at
Mimi's cafe
.
I personally consider Mimi's as a child friendly restaurant.
They have booster seats, a special kids menu in which include crayons for the kids to color on, and they usually have a complementary kids snack plate that they bring out as soon as you sit down so the kids are occupied while you can look over the menu.
To me...that equals kid friendliness.
We sat at our table, enjoyed our meal also knowing that this is one of the last times we will be spending together before we all leave to go our separate ways the next day.
Towards the end of the meal, little 22 months old Griffin was getting a little antsy. Like every 22 month old in the entire world after sitting for an hour.
He got down from his seat and walked over to Romeo and started talking to him in his own little Griffin language to which Romeo acted as though he understood then started gently honking Griffin's nose. The boys giggled and then Griffin walked to Wild man and did the same thing. It was really cute.
Then a woman walked up to Mr. Genius that I refer to as the devil woman, and tapped on his shoulder and said.
"Back in my day we were taught to control our children and to be quiet and well-behaved in restaurants."
Holy Cow!
I do not think my blood has gone from cool and calm to completely boiling in a matter of seconds.
Mind you even though we are in the south this was not said in a sweet southern accent more of the devils tongue in human form.
As she was walking off she also stated that she would like to enjoy her meal.
Any other time you meet me please know that I am a kind person. I love the Lord and do my best to please Him.
That is until I met a devil woman that is talking bad about my kids and my nephew.
Then...well...that spirit leaves me.
So I whipped around and said "well thanks but we are enjoying our meal just fine as we are."
She replied" Well I am not"
I then stated "You should have gone to another restaurant then."
She sat down and smiled the most evil smile I have ever seen.
I was so mad I was shaking.
We were all just in shock we didn't know what to say.
As we left my sweet mom walk over and I that she was sorry that we disturbed her but the family is stretch out all over the nation and do not get to see each other much so we were enjoying watching the cousins interact with each other.
As mom walked away, the devil woman made a rude face then looked at me and gave me a look of " I won, so whatcha going to do about it."
And this is when I had an out of body experience.
I walked over got right in her face and said in my best southern passive aggressive draw.
Well back in my day, really old lady's like yourself were actually nice which is quite unlike yourself. Maybe you should learn from them."
I admit, not is my best comeback but I couldn't even think straight.
We all ran out of there to cool off.
As we were cooling off we were going over the situations in our head. Thinking back through the whole lunch. Wondering if the boys were really that bad. In all honesty they really weren't. They acted like a normal 1, 2, 3, and 4 year olds. But they weren't "uncontrollable" and the devil lady was making them out to be.
But don't you just hate it when you have a conversation with someone and it isn't until later you think of the perfect thing to do or say?
That is exactly what happened.
My sister in law Kat has seen just about every movie and can quote any movie scene to fit any occasion.
After cooling off she remembered in 'Dumb and Dummer' where I guess Jim Carey shouts "The nice lady over there wants to pay for all of our meals."
That is totally what we should have done!!!
So I need to find a time machine to take me back to after she comes up to us and then tell the waitress that the nice lady in the stripper looking clothes would love to pay for our meal cuz she has been so delighted in watching our children.
Then as we were walking out we would just walk by thanking her profusely.
How awesome would have that of been?
Is it bad that I have been daydreaming about that?
I guess I am partially evil.
This post was sponsored by: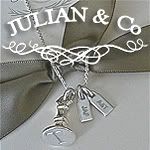 Don't forget
Little Lesiw
big sale right now to help pay for her adoption!